Glavkosmos and Roscosmos tell Moscow school students about the use of VR systems in space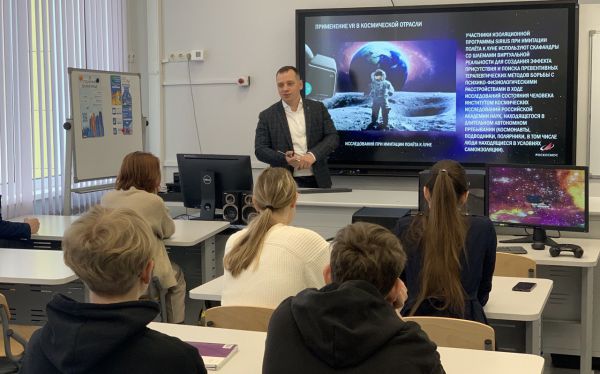 MOSCOW, April 12. – Representatives of the State Space Corporation Roscosmos, Glavkosmos and RK Digital (both part of Roscosmos) on Cosmonautics Day presented to Moscow school students the virtual reality systems used in the space industry.
Students of Moscow school No. 1409 got familiarized with a helmet of virtual reality Roscosmos XR-1, technology developed by the Roscosmos specialists. With the help of this kit, students were able to see firsthand the objects of the Universe discovered by the Spektr-RG spacecraft, they tried themselves as cosmonauts making a spacewalk, and also got acquainted with the use of virtual reality in space medicine, cosmonaut training and other areas.
"We hope that the VR technologies demonstrated today, on Cosmonautics Day, which are actually used in our work, will motivate young people to further study the achievements of Russian cosmonautics," said Oksana Pankova, Deputy General Director of Glavkosmos JSC for Economics and Finance. "We expect that the interest of the younger generation in space exploration will grow and encourage some of them to choose a career at Roscosmos enterprises in the future," she added.
***
Glavkosmos, JSC is a subsidiary of the State Space Corporation Roscosmos. The main task of the company is to promote the achievements of the Russian rocket and space industry to world markets and to manage complex international projects. During its more than thirty-five year history, the company has successfully fulfilled over 140 international contracts, including the launch of more than 170 spacecraft as a secondary payload.
Since May 2021, Glavkosmos has been the official operator of Roscosmos trademarks.
ROSCOSMOS is a State Corporation established in August 2015 to carry out a comprehensive reform of the Russian rocket and space industry. ROSCOSMOS ensures the implementation of the state policy in space activities and its normative and legal regulations, as well as places orders for the design, production and supply of space equipment and space infrastructure. ROSCOSMOS is also vested with authority to develop international cooperation in space and establish the appropriate environment for applying achievements in space domain for the social and economic development in Russia.
2022
2021
2020
2019
2018
2017