Glavkosmos and Bangladesh Satellite Company Ltd. to cooperate in creating Earth remote observation satellite system for Bangladesh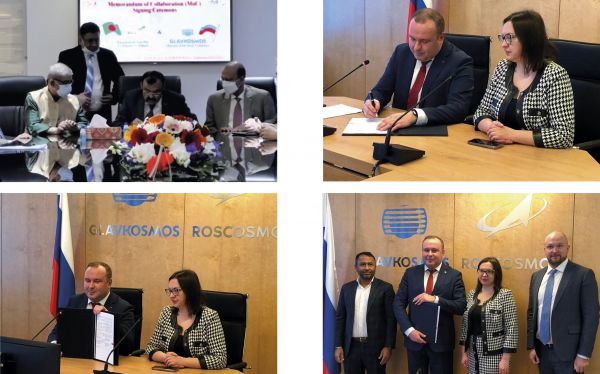 MOSCOW, February 2. - Glavkosmos (part of the Roscosmos) and the Bangladeshi state-owned satellite company Bangladesh Satellite Company Limited signed a Memorandum of cooperation on Wednesday.
Dmitry Loskutov, CEO of Glavkosmos JSC, and Dr. Shahjahan Mahmood, Chairman and CEO of Bangladesh Satellite Company Limited signed the Memorandum.
"The Parties express their intentions to establish partnership relations to develop long-term, effective and mutually beneficial cooperation in the field of promotion of products and services of the Russian space industry in the People's Republic of Bangladesh including manufacturing and launch of Bangabandhu Satellite-2 Earth observation satellite system, manufacturing of ground infrastructure (satellite ground stations) for acquiring Earth observation data from the Russian and foreign spacecraft, launch services, educational programs in space domains, commercial orbital flights and consulting services," the document says.
The Memorandum of Cooperation comes into effect from the moment of signing and will be valid until December 31, 2026.
***
Glavkosmos, JSC is a subsidiary of the State Space Corporation Roscosmos. The main task of the company is to promote the achievements of the Russian rocket and space industry to world markets and to manage complex international projects. During its more than thirty-five year history, the company has successfully fulfilled over 140 international contracts, including the launch of more than 170 spacecraft as a secondary payload.
Since May 2021, Glavkosmos has been the official operator of Roscosmos trademarks.
ROSCOSMOS is a State Corporation established in August 2015 to carry out a comprehensive reform of the Russian rocket and space industry. ROSCOSMOS ensures the implementation of the state policy in space activities and its normative and legal regulations, as well as places orders for the design, production and supply of space equipment and space infrastructure. ROSCOSMOS is also vested with authority to develop international cooperation in space and establish the appropriate environment for applying achievements in space domain for the social and economic development in Russia.
Bangladesh Satellite Company Limited - a state owned company established to ensure manufacturing, launch, control, marketing and sales of national satellite capacity with satellite ground stations.
2023
2022
2021
2020
2019
2018
2017