Glavkosmos and NPP Zvezda discussed possibilities of cooperation in commercial human space flights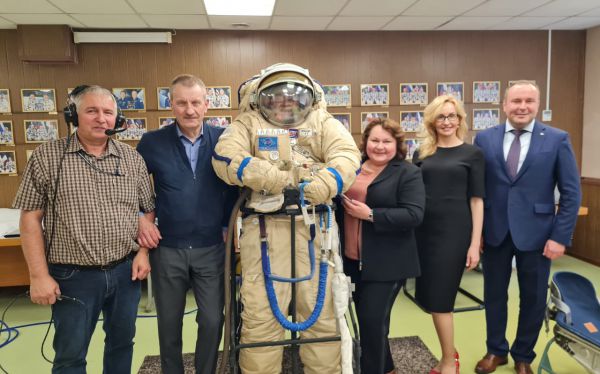 MOSCOW, June 13. - The top management of Glavkosmos visited Research, Development & Production Enterprise Zvezda (NPP Zvezda) in Tomilino near Moscow on Friday. The representatives of Glavkosmos and the management of NPP Zvezda held substantive negotiations, where they discussed the work on the implementation of contracts for manufacturing spacesuits, couch-liners and individual seats for the Indian human space flight program, as well as manufacturing of the corresponding equipment for the participants of the scientific and educational project "Vyzov" (stands for "Challenge" in Russian).
All works under the contracts of Glavkosmos with NPP Zvezda is carried out by the company in accordance with the schedule.
Moreover, the parties discussed cooperation in new promising projects, including the use of NPP Zvezda's many years of expertise and its production capacities for the manufacture of individual flight equipment that will be used by commercial participants of space flights - tourists and researchers.
Another discussion was dedicated to the possible use of the equipment produced by NPP Zvezda for making a spacewalk by the commercial participants of space flights, since Glavkosmos has started to receive such requests.
***
Glavkosmos, JSC is a subsidiary of the State Space Corporation Roscosmos. The main task of the company is to promote the achievements of the Russian rocket and space industry to world markets and to manage complex international projects. During its thirty-five year history, the company has successfully fulfilled over 140 international contracts, including the launch of more than 150 spacecraft as a secondary payload.
ROSCOSMOS is a State Corporation established in August 2015 to carry out a comprehensive reform of the Russian rocket and space industry. ROSCOSMOS ensures the implementation of the state policy in space activities and its normative and legal regulations, as well as places orders for the design, production and supply of space equipment and space infrastructure. Its functions also include the development of international space cooperation, as well as the establishing of environment for application of space domain achievements for the social and economic development in Russia.
Research, Development & Production Enterprise Zvezda, JSC is a leading enterprise in Russia in creation and production of individual life support systems for pilots and cosmonauts, means of rescue for crews and passengers in case of accidents of aircraft, and aircraft refueling systems.
2023
2022
2021
2020
2019
2018
2017