Glavkosmos CEO moderates the space session at the Russia-Africa Economic and Humanitarian Forum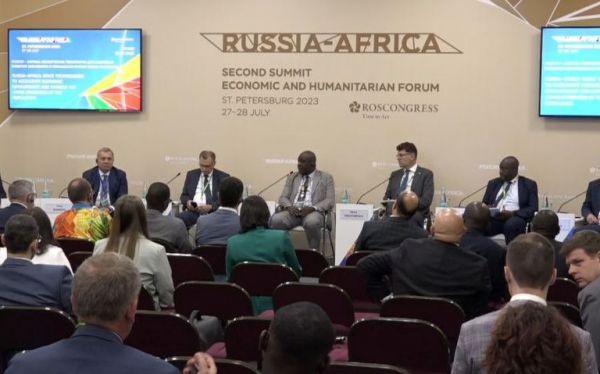 ST. PETERSBURG, July 27. – Director General of Glavkosmos JSC (part of Roscosmos) Dmitry Loskutov moderated the roundtable "Russia – Africa: Space Technologies to Accelerate Economic Development and Improve the Standard of Living". The event, held as part of the Russia–Africa Economic and Humanitarian Forum, took place on Thursday at the Expocentre of St. Petersburg.
The head of the State Space Corporation Roscosmos Yuri Borisov attended the roundtable; he outlined Russian priorities in the development of space cooperation with African countries.
The heads of space agencies, relevant ministries and departments of Algeria, the Democratic Republic of the Congo, Zimbabwe, Nigeria, Tanzania and the Republic of South Africa shared their views on the development of cooperation between African countries and Russia. Representatives of Russian legislative bodies, academic and scientific circles, leading enterprises of the Russian space industry also shared their vision of how Russia and African states can cooperate in space.
***
Glavkosmos, JSC is a subsidiary of the State Space Corporation Roscosmos. The main task of the company is to promote the achievements of the Russian rocket and space industry to world markets and to manage complex international projects. Throughout its history, the company has successfully fulfilled over 140 international contracts, including the launch of more than 200 spacecraft as a secondary payload.
Since May 2021, Glavkosmos has been the official operator of Roscosmos trademarks.
ROSCOSMOS is a State Corporation established in August 2015 to carry out a comprehensive reform of the Russian rocket and space industry. ROSCOSMOS ensures the implementation of the state policy in space activities and its normative and legal regulations, as well as places orders for the design, production and supply of space equipment and space infrastructure. ROSCOSMOS is also vested with authority to develop international cooperation in space and establish the appropriate environment for applying achievements in space domain for the social and economic development in Russia.
2023
2022
2021
2020
2019
2018
2017