Glavkosmos completed its participation in GLEX-2021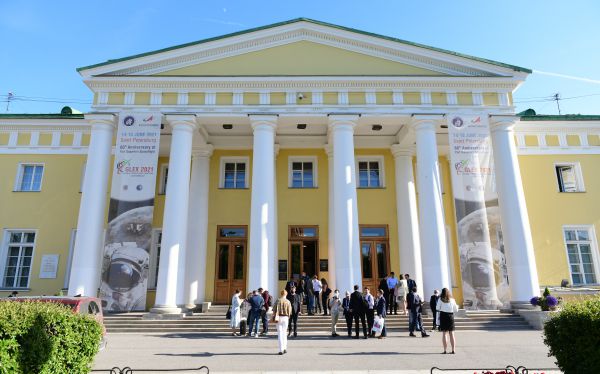 MOSCOW, June 18. - On Friday, Glavkosmos completed its work as a co-organizer and participant of the Global Space Exploration Conference (GLEX-2021) in St. Petersburg. The State Space Corporation Roscosmos and the International Astronautical Federation (IAF) organized the conference with the assistance of the Committee for Tourism Development of St. Petersburg, the event was held from June 14 to 18.
As part of the conference, Dmitry Loskutov, Director General of Glavkosmos JSC, spoke at the technical session "International Cooperation in Space Exploration" on June 15.
The top management of Glavkosmos held a series of bilateral meetings with Russian and foreign representatives of business and scientific circles, mass media and educational organizations took place on the sidelines of the forum.
A joint exhibition of enterprises Roscosmos was opened as part of the conference; it displayed new technologies of TsENKI, Russian Space Systems, Lavochkin Association and Glavkosmos Launch Services, some exclusive photos and videos of Yuri Gagarin, dedicated to the 60th anniversary of the first human flight into space, were also on display. The exhibition also featured a joint exposition of souvenirs and merch from Roscosmos and Glavkosmos; everyone could buy the company's branded products there.
***
Glavkosmos, JSC is a subsidiary of the State Space Corporation Roscosmos. The main task of the company is to promote the achievements of the Russian rocket and space industry to world markets and to manage complex international projects. During its thirty-five year history, the company has successfully fulfilled over 140 international contracts, including the launch of more than 150 spacecraft as a secondary payload.
ROSCOSMOS is a State Corporation established in August 2015 to carry out a comprehensive reform of the Russian rocket and space industry. ROSCOSMOS ensures the implementation of the state policy in space activities and its normative and legal regulations, as well as places orders for the design, production and supply of space equipment and space infrastructure. Its functions also include the development of international space cooperation, as well as the establishing of environment for application of space domain achievements for the social and economic development in Russia.
International Astronautical Federation (IAF) - the world's leading space advocacy body with 407 members in 71 countries, including all leading space agencies, companies, research institutions, universities, societies, associations, institutes and museums worldwide.
2023
2022
2021
2020
2019
2018
2017