Glavkosmos presents the Russian vision of the prospects for international space cooperation in India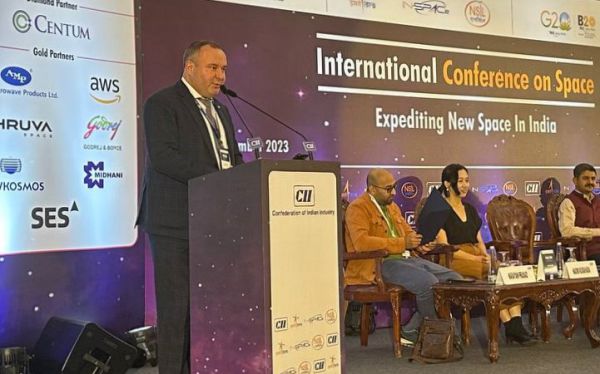 MOSCOW, September 15. – Dmitry Loskutov, Director General of Glavkosmos JSC (part of Roscosmos), took part in a panel discussion "Enhancing International collaborations in space sector: best practices and the roadmap ahead", which took place at the International Conference on Space in Bengaluru, India.
The head of the company presented his point of view on the most promising areas and directions for international cooperation in space exploration, and elaborated on the public-private partnership.
"Today governments are creating solid legal base for private space companies, letting them work not only on designing and manufacturing spacecraft, but also launch services. We are ready to offer support and assistance to private companies," said Dmitry Loskutov. He added that the three things that most probably would remain the prerogative of national governments are defence and security tasks in space; crewed spaceflights and science, including deep space. "These areas that are still hard to commercialize, although in terms of crewed spaceflights, we see that some private companies are looking there already as well," he added.
The CEO of Glavkosmos also stressed, that crewed spaceflights to the ISS probably remain one of the best examples of international cooperation, not influenced by political discrepancies. "Tonight, a crew of Roscosmos cosmonauts and a NASA astronaut is scheduled to fly to the ISS where it will be met by a multinational team," he said.
According to Mr. Loskutov, there are truly global challenges that require concerted action, like asteroid threat or space junk. "I believe that our Governments and space agencies as enablers for the New Space should play their important role here," Dmitry Loskutov said in conclusion.
The International Conference on Space-2023 is being held in Bangalore (India) from 14 to 15 of September and is entitled "Expediting New Space in India". This year Glavkosmos is a partner of the International Conference on Space.
***
Glavkosmos, JSC is a subsidiary of the State Space Corporation Roscosmos. The main task of the company is to promote the achievements of the Russian rocket and space industry to world markets and to manage complex international projects. Throughout its history, the company has successfully fulfilled over 140 international contracts, including the launch of more than 200 spacecraft as a secondary payload.
Since May 2021, Glavkosmos has been the official operator of Roscosmos trademarks.
ROSCOSMOS is a State Corporation established in August 2015 to carry out a comprehensive reform of the Russian rocket and space industry. ROSCOSMOS ensures the implementation of the state policy in space activities and its normative and legal regulations, as well as places orders for the design, production and supply of space equipment and space infrastructure. ROSCOSMOS is also vested with authority to develop international cooperation in space and establish the appropriate environment for applying achievements in space domain for the social and economic development in Russia.
2023
2022
2021
2020
2019
2018
2017