Glavkosmos took part in the ANGOTIC 2023 conference in Angola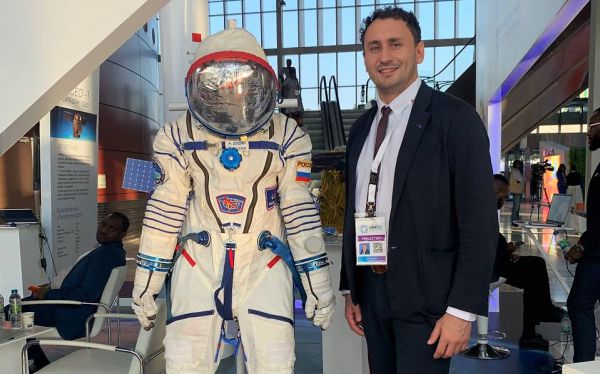 MOSCOW, June 14. – As a member of the Russian delegation, Glavkosmos JSC (part of Roscosmos) participated from June 12 to 14 in the Angolan Conference on Information and Communication Technologies and Space (ANGOTIC 2023). The international event, held in the Angolan capital Luanda through the Ministry of Telecommunications, Information Technologies, and Social Media (MINTTICS) of Angola, allowed specialists in information technologies, space and communications to exchange views and evaluate current trends in the development of high technologies on the African continent.
During a panel discussion on the space industry and its modern trends, Glavkosmos specialists presented to the participants of the event the company's achievements in implementing space missions of various purposes – from crewed human spaceflights to the development of turnkey satellite programs for nations taking their first steps in space exploration.
At the request of the Angolan side, Glavkosmos demonstrated at the booth of the National Space Program Management Office (Gabinete de Gestão do Programa Espacial Nacional, GGPEN) a space suit, which was used by a member of the backup crew in preparation for the filming of the first full-length feature film The Challenge that was shot in space and aroused international interest.
***
Glavkosmos, JSC is a subsidiary of the State Space Corporation Roscosmos. The main task of the company is to promote the achievements of the Russian rocket and space industry to world markets and to manage complex international projects. Throughout its history, the company has successfully fulfilled over 140 international contracts, including the launch of more than 180 spacecraft as a secondary payload.
Since May 2021, Glavkosmos has been the official operator of Roscosmos trademarks.
ROSCOSMOS is a State Corporation established in August 2015 to carry out a comprehensive reform of the Russian rocket and space industry. ROSCOSMOS ensures the implementation of the state policy in space activities and its normative and legal regulations, as well as places orders for the design, production and supply of space equipment and space infrastructure. ROSCOSMOS is also vested with authority to develop international cooperation in space and establish the appropriate environment for applying achievements in space domain for the social and economic development in Russia.
2023
2022
2021
2020
2019
2018
2017