The clothing collection by BOSCO, which participates in the charity campaign, features logos of Roscosmos and Glavkosmos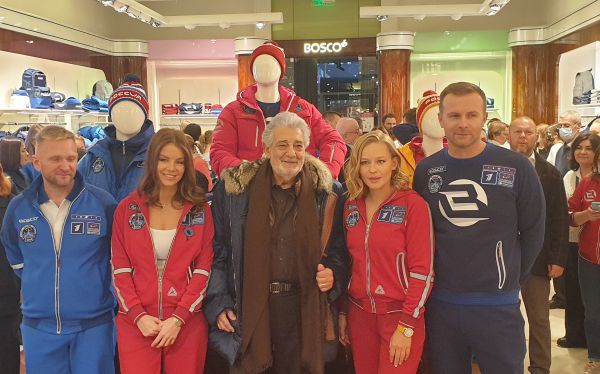 MOSCOW, November 23. - The official logos of the Roscosmos State Corporation, Glavkosmos (part of Roscosmos) and Channel One, which are implementing the scientific and educational project "Challenge", are featured in the partner clothing collection "Cosmos" by BOSCO, which is being promoted in the charity event of BOSCO and the Galchonok (a Russian word for "a young jackdaw") Charity Foundation for children with organic lesions of the central nervous system. The Russian actress Yulia Peresild is the founder of the Galchonok Charity Foundation.
As part of "The Challenge" project, Yulia Peresild and director Klim Shipenko worked on board the International Space Station from October 5 to 17, 2021, where they were shooting the first full-length feature film, as well as making additional photo and video content for scientific, educational and learning purposes.
The charity event, starting today, provides for the transfer of 20 percent of the purchase price of any BOSCO product from the "Cosmos" collection to the Galchonok Children's Charity Foundation. The promotion will last until December 31.
When creating the items of the "Cosmos" collection, BOSCO designers were inspired by the achievements of Russia in the field of space research, the historical fact of the USSR's primacy in space exploration and human spacewalk.
***
Glavkosmos, JSC is a subsidiary of the State Space Corporation Roscosmos. The main task of the company is to promote the achievements of the Russian rocket and space industry to world markets and to manage complex international projects. During its more than thirty-five year history, the company has successfully fulfilled over 140 international contracts, including the launch of more than 170 spacecraft as a secondary payload.
Since May 2021, Glavkosmos has been the official operator of Roscosmos trademarks.
ROSCOSMOS is a State Corporation established in August 2015 to carry out a comprehensive reform of the Russian rocket and space industry. ROSCOSMOS ensures the implementation of the state policy in space activities and its normative and legal regulations, as well as places orders for the design, production and supply of space equipment and space infrastructure. ROSCOSMOS is also vested with authority to develop international cooperation in space and establish the appropriate environment for applying achievements in space domain for the social and economic development in Russia.
2023
2022
2021
2020
2019
2018
2017