Dmitry Loskutov: The Number of People Willing to Go to Space Is Not Decreasing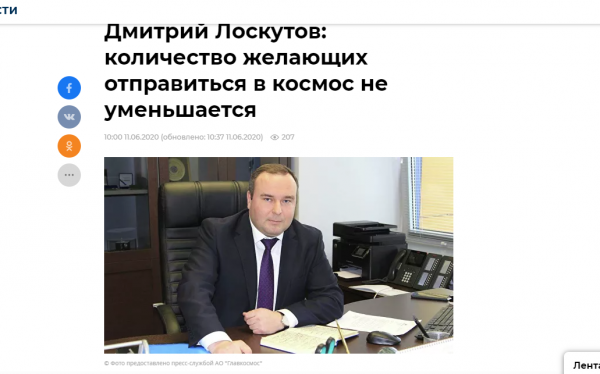 Dmitry Loskutov, CEO of Glavkosmos, told Dmitry Strugovets, the special correspondent of RIA Novosti News Agency, about the consequences of OneWeb's bankruptcy for Russia, and about Glavkosmos assistance in implementing India's national human spaceflight program.
— What are the main goals of the company in the year of its 35th anniversary?
— We plan to implement our current contracts, search for new opportunities and partners, as well as for new areas of work. Glavkosmos in its 35-year history has repeatedly proved its ability to take non-standard approaches to solving the most non-trivial problems.
We finished 2019 well in economic terms. The company's revenue for 2019 increased by 62.2% compared to the same indicator in 2018 and amounted to almost 14 billion rubles; and Glavkosmos's net profit for the same period amounted to 416.1 million rubles, which is 39.9% higher than this indicator for 2018. Unfortunately, it is not in our power to fight the global economic downturn due to the pandemic, but we will do our best to maintain positive dynamics in the company's economy.
Glavkosmos was no exception and felt the impact of the epidemic of the new coronavirus infection, but I would like to stress that the actions we took made it possible to ensure efficient and uninterrupted operation under such difficult conditions. I am sure that we will come out of this ordeal as an even stronger and more united team.
— Does Glavkosmos stream the profit it makes from its space activities to creating new space technology?
— All the net profit that Glavkosmos receives as an international business operator (by the way, we do not have state contracts) is transferred as a dividend stream to its sole shareholder, the State Space Corporation Roscosmos. Accordingly, Roscosmos makes a decision on how the funds received will be spent within the existing strategy for developing the Russian space industry.
— The company has started to deal with contracts for commercial tourist spaceflights aboard the Russian Soyuz spacecraft. How much is space tourism interesting and promising?
— Space exploration itself began with the dream that a person who conquered the earth's expanses, seas and oceans will one day be able to conquer outer space, pave the way to the stars and new planets. Writers and poets clothed the dream in literary forms; technical and scientific experts approached this dream from the point of view of its practical implementation. That is why today the number of people who want to go to space is not decreasing at all.
Today the humanity is at the very beginning of its journey to the stars. After all, at the dawn of aviation, few people could afford flying an airplane, and even today, there is a great number of people on the planet who have never flown an airplane – just because they cannot afford it from the financial point of view.
The same thing happens with commercial space flights. Many people would like to go to space, but they are ready to pay much less the amount required. It means that the economy of mass space flights is not taking shape yet.
If you count the flights paid for at the space travelers' own expense on the legendary Soyuz spacecraft, then there still is a chance to get on the "List of honor" of the Top Ten Private Pioneer Travelers. This is why working on the commercial human spaceflight market is very specific: you need to work with certain social strata, be engaged in targeted advertising, and anticipate the needs of potential customers. This task is not trivial, but it is interesting, especially since the participants of a space flight will afterwards be able to capitalize on their unique experience — they will attract the attention, without exaggeration, of the entire world.
I will get back to the prospects of mass space tourism. I think that this segment will be developed primarily in the field of suborbital flights. In general, commercial space travels are promising, and this area needs to be developed. Naturally, it is potentially a very profitable market, and it also contributes to the image of the state, to leadership of such a state in the space exploration sector, for the development of industry, science, and culture. All in all, the goal is to make access to space reliable, not too expensive, and safe.
— Did any of the tourists who paid for a flight themselves, or participants of a space flight paid by a state express a wish to take a spacewalk? What is the cost of it?
— A spacewalk is an extremely critical and dangerous operation that requires special training, specially manufactured equipment, registration in the work program of the International Space Station, control by the accompanying partner, as well as by the ISS itself and by the mission control center. It will not be an easy ride. There were no serious applications yet, but it is possible to train a space flight participant for extravehicular activity. Of course, it will raise the cost of the flight.
— A group of the Indian citizens is now being trained at Gagarin Cosmonaut Training Center (GCTC). It was reported that, in addition to training the crew, Russia would help India in creating a life support system for their spacecraft. What are the systems specifically and what is their current status?
— Indeed, our partnership with India is not limited to training Indian cosmonauts. On October 25, 2019, Glavkosmos and the Human Space Flight Centre of the Indian Space Research Organization signed a contract to assess the feasibility of using Russian flight equipment for life support systems and thermal control in their crew spacecraft "Gaganyaan" (Sky Craft). The contract is now getting to completion. We look forward to further cooperation in various aspects of the Indian space program.
— Recently, International Launch Services (ILS), which is engaged in promotion of Proton and Angara launch vehicles on foreign markets, has been managed by Glavkosmos. What work to promote these LVs is currently underway? Can we expect any new contracts for Protons? Are there any new contracts for Angara?
— It would be wrong to say that Glavkosmos is managing ILS. We have significantly increased the degree of interaction with this subsidiary of the Khrunichev Space Ñenter.
The new ILS team combines in-depth knowledge of the launch services market, American and European export control legislation, and has extensive experience in promoting heavy-class launch vehicles. They have a systematic and flexible approach to working with customers and, like us, do not like to talk about preliminary agreements with anyone, as well as about the progress of ongoing negotiations. I can only say that such negotiations are underway.
An important aspect of the partnership with ILS is the cross-marketing of Soyuz and Proton launch vehicles, which is currently being negotiated by the American company and our subsidiary GK Launch Services.
— OneWeb, which ordered 21 Soyuz LVs from Russia, filed for bankruptcy. What are the prospects for resuming OneWeb satellite launches? What will happen to the remaining rockets? What financial risks does Russia bear in this case?
— I would not like to talk about the prospects of OneWeb in the subjunctive mood. You must agree that it is not very ethical to publicly discuss a partner or make some assumptions about its future. Glavkosmos directly cooperates with Arianespace and Starsem companies within the framework of this contract, and OneWeb is a client of the French company Arianespace. I would like to emphasize that Glavkosmos does not have a direct contractual relationship with OneWeb.
However, taking into account the existing relationship, the OneWeb management, in strict compliance with the current regulations, promptly informed all interested parties of the problems and actions taken, including filing for the restructuring of its financial obligations under Chapter 11 of the U.S. Bankruptcy Code (in the U.S. Bankruptcy Court, - note by the Press Service). We appreciate that step and are very grateful to OneWeb for the display of business decency.
Our companies have already received the vast majority of the payments under that contract, and almost all the hardware should have been produced by the end of this year. In the worst case, some of our enterprises will get less money than expected, and Arianespace will probably have to search payload for those launchers. Well, in the best case, the OneWeb project will get a second wind, perhaps with new investors.
In any case, we look forward to OneWeb's financial recovery and, of course, we would be interested to continue working on this comprehensive and significant international project.
(Translation by the Press Service of Glavkosmos)