Glavkosmos and Orbital Express to cooperate in promoting services to the global space market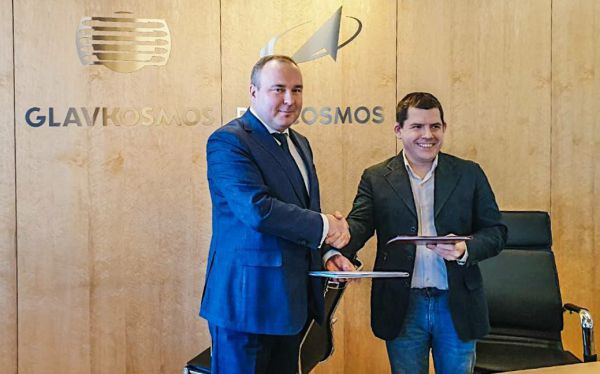 MOSCOW, March 11. - Glavkosmos (part of Roscosmos) and the Russian private company Orbital Express have signed an agreement on cooperation in promoting services to the global space market with the help of the Russian rocket and space technology. The document was signed on Thursday at the Glavkosmos headquarters in Moscow.
"Glavkosmos welcomes the initiative of Russian private NewSpace companies to enter the foreign space market," says Dmitry Loskutov, Director General of Glavkosmos. "We hope that the interaction between Glavkosmos and Orbital Express will be successful. We believe that it will have a positive impact on the development of Russian rocket and space technologies," he adds.
In his turn, Nikita Partsevsky, Director General of Orbital Express LLC, notes that his company is satisfied that it has found support in Glavkosmos. "It is extremely important for us to establish mutually beneficial cooperation with state-owned companies, such as Glavkosmos, which has experience in implementing complex international projects and is the foreign business operator of the State Space Corporation Roscosmos. It will let us create a service that is competitive on the global market and profitable for our customers," he says. "We are glad that both our initiative and project are being understood by our partners in Glavkosmos," adds Partsevsky.
***
Glavkosmos, JSC is a subsidiary of the State Space Corporation Roscosmos. The main task of the company is to promote the achievements of the Russian rocket and space industry to world markets and manage complex international projects. During its thirty-five year history, the company has successfully fulfilled over 140 international contracts, including the launch of more than 150 spacecraft as a secondary payload.
Orbital Express LLC, established in 2020 by a group of Russian engineers and specialists with experience of working at state-owned rocket and space enterprises and in private companies. Orbital Express is developing an ultra-small upper stage to facilitate launches of small spacecraft, such as nano- and microsatellites and payload. The upper stage is supposed to be launched simultaneously aboard Roscosmos or Russian private space companies' launch vehicles. Since 2021, Orbital Express has been a resident of the Skolkovo Foundation. The company participates in the Aeronet Group technology competition of the National Technology Initiative named "Development of the Upper Stage for Small Spacecraft".
ROSCOSMOS is a State Corporation established in August 2015 to carry out a comprehensive reform of the Russian rocket and space industry. ROSCOSMOS ensures the implementation of the state policy in space activities and its normative and legal regulations, as well as places orders for the design, production and supply of space equipment and space infrastructure. Its functions also include the development of international space cooperation, as well as the establishing of environment for application of space domain achievements for the social and economic development in Russia.
2022
2021
2020
2019
2018
2017