Glavkosmos and Space JLTZ will promote Russian space products in Mexico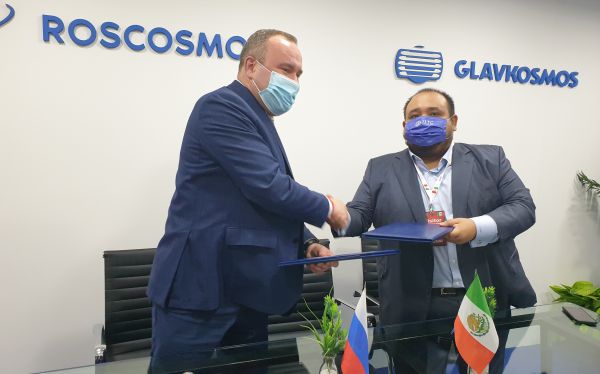 MEXICO CITY (MEXICO), September 22. - Glavkosmos JSC (part of Roscosmos) and the Mexican Space JLTZ Holdings signed the Memorandum of Cooperation on promoting the products of the Russian rocket and space industry in Mexico at the International Aerospace Exhibition FAMEX-2021. Dmitry Loskutov, Director General of Glavkosmos, and Space JLTZ Holdings Chief Executive Officer Jose Luis Terreros Corrales put their signatures in the document.
"We hope that our cooperation will be successful and that it will be fruitful for the people of our countries. Mexico is a new area of work for Glavkosmos and we also expect positive and mutually beneficial results from this experience of interacting with our Mexican colleagues," Dmitry Loskutov said.
The signed memorandum implies the establishment of partnership between Glavkosmos and Space JLTZ Holdings for developing long-term, efficient and mutually beneficial cooperation in promoting the products of the Russian rocket and space industry in Mexico. The areas of cooperation include provision of launch services and remote sensing data from Russian spacecraft, production of spacecraft, implementation of educational space related programs, and other areas of interest to Mexico.
The International Aerospace Exhibition FAMEX takes place every two years. This year, the Santa Lucia Air Base near the capital of Mexico became the venue for the event.
***
Glavkosmos, JSC is a subsidiary of the State Space Corporation Roscosmos. The main task of the company is to promote the achievements of the Russian rocket and space industry to world markets and to manage complex international projects. During its more than thirty-five year history, the company has successfully fulfilled over 140 international contracts, including the launch of more than 170 spacecraft as a secondary payload.
ROSCOSMOS is a State Corporation established in August 2015 to carry out a comprehensive reform of the Russian rocket and space industry. ROSCOSMOS ensures the implementation of the state policy in space activities and its normative and legal regulations, as well as places orders for the design, production and supply of space equipment and space infrastructure. Its functions also include the development of international space cooperation, as well as the establishing of environment for application of space domain achievements for the social and economic development in Russia.
2023
2022
2021
2020
2019
2018
2017