Glavkosmos cheers the successful return of the UAE astronaut to Earth from the ISS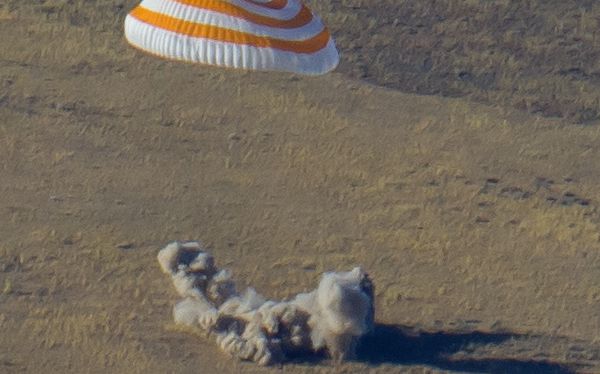 On Thursday, October 3, 2019, the first in the history of the United Arab Emirates (UAE) astronaut Hazzaa Al Mansoori returned to Earth from the flight to the International Space Station (ISS) in the descent module of the Soyuz MS-12 manned spaceship that successfully landed in the Kazakhstan steppe at 11:00 UTC.
The UAE astronaut made his return flight together with Roscosmos cosmonaut Alexey Ovchinin and NASA astronaut Nick Hague.
All the descent and landing operations went as expected. The crew returned to Earth in good health. Alexeyi Ovchinin and Nick Hague spent 203 days in space and Hazzaa Al Mansoori – 8 days.
Glavkosmos (part of Roscosmos), as one of Roscosmos subcontractors, was directly involved in the activities related to the training of astronauts from the UAE.
Also, in cooperation with Space Food Laboratory and the Institute of Biomedical Problems of the Russian Academy of Sciences and on the initiative of Mohammed Bin Rashid Space Center (UAE), Glavkosmos arranged so that the national Emirati dishes were included into a "guest set" for the first UAE astronaut. The set consisted of three traditional dishes: madhrooba (the main ingredient is chicken), the saloona (the main ingredient is roast lamb with vegetables), and balaleet (the main ingredient is vermicelli with eggs). The ISS crew tasted the national cuisine dishes of the UAE.
The Soyuz-FG carrier rocket was launched on September 25, 2019 from the launch pad No.1 (Gagarin's Start) at the Baikonur Cosmodrome and the crewed Soyuz MS-15 spacecraft delivered to the ISS members of the ISS-61/62/EP-19 long-term expedition: Roscosmos cosmonaut Oleg Skripochka, NASA astronaut Jessica Meir and UAE astronaut Hazzaa Al Mansoori.
Roscosmos and Mohammed Bin Rashid Space Center signed the contract for the training and organization of the flight of the first UAE astronaut to the ISS in 2018. Two candidates – Hazzaa Al Mansoori and Sultan Al Neyadi – were selected from the list of candidates. Hazzaa Al Mansoori went to the ISS, and Sultan Al Neyadi became his backup.
***
JSC Glavkosmos is a daughter company of the State Space Corporation ROSCOSMOS. The key objectives of the company are the promotion of Russian space industry achievements to the world market and management of complex international projects. For the more than thirty-year history of the company, over 120 international contracts have been successfully fulfilled, including launching of more than 140 satellites as secondary payloads.
2023
2022
2021
2020
2019
2018
2017