Glavkosmos takes part in GLEX-2021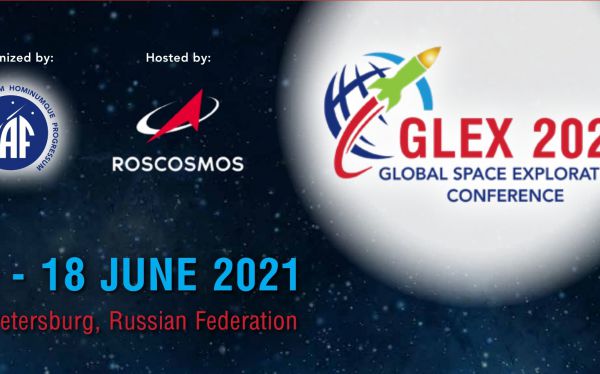 MOSCOW, June 12. - Glavkosmos, as a co-organizer, will take part in the Global Space Exploration Conference — GLEX-2021, which will be held from June 14 to 18, 2021 in St. Petersburg. The conference is organized by the State Space Corporation Roscosmos jointly with the International Astronautical Federation (IAF) with the assistance of the Committee for Tourism Development of St. Petersburg.
Dmitry Loskutov, General Director of Glavkosmos, will take part in the technical session International Cooperation in Space Exploration (Library Hall of the Tauride Palace, 14:00 Moscow Time) on June 16, where he will share ideas on ways to develop international cooperation in space.
GLEX-2021 will consist of a whole number of events: a Plenary Program with panel discussions and high-level participants, a session dedicated to the 60th anniversary of Yuri Gagarin's spaceflight, an IAF Global Networking Forum, 12 Technical Sessions on crewed spaceflights, Solar System and the Universe exploration, astronomical and astrophysical research.
The Conference will be hosted in hybrid format (online and in person) with the participants from 59 countries.
***
Glavkosmos, JSC is a subsidiary of the State Space Corporation Roscosmos. The main task of the company is to promote the achievements of the Russian rocket and space industry to world markets and to manage complex international projects. During its thirty-five year history, the company has successfully fulfilled over 140 international contracts, including the launch of more than 150 spacecraft as a secondary payload.
ROSCOSMOS is a State Corporation established in August 2015 to carry out a comprehensive reform of the Russian rocket and space industry. ROSCOSMOS ensures the implementation of the state policy in space activities and its normative and legal regulations, as well as places orders for the design, production and supply of space equipment and space infrastructure. Its functions also include the development of international space cooperation, as well as the establishing of environment for application of space domain achievements for the social and economic development in Russia.
International Astronautical Federation (IAF) - the world's leading space advocacy body with 407 members in 71 countries, including all leading space agencies, companies, research institutions, universities, societies, associations, institutes and museums worldwide.
2023
2022
2021
2020
2019
2018
2017