Glavkosmos to Help India with Heating and Life Support Systems for Gaganyaan Spacecraft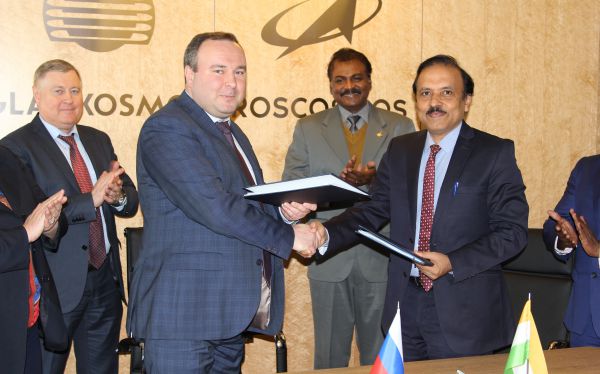 MOSCOW, October 25 - Glavkosmos JSC, part of Roscosmos State Space Corporation, and Human Space Flight Centre of Indian Space Research Organization (HSFC of ISRO) on Friday signed a contract to review a project to assess the possibility of using Russian flight equipment in life support systems and providing thermal regime for the manned spacecraft Gaganyaan.
Dmitry Loskutov, Director General of Glavkosmos, and Dr. Unnikrishnan Nair, Head of the HSFC, signed the contract. The signing ceremony was held in the presence of Deputy Director General for international cooperation of Roscosmos State Space Corporation Sergey Savelyev.
"We hope that the signing of this document and the implementation of its provisions will serve both the development of the Indian space program and manned space flights, and in general the further strengthening of good Russian-Indian relations," Loskutov said. "We will be glad to expand our cooperation."
In turn, Unnikrishnan Nair expressed gratitude to the Russian side for the fruitful talks and noted that India and Russia continue to be reliable partners, including the issues of cooperation in space.
The contract will be implemented with the participation of Rocket and Space Corporation Energia.
On June 27, 2019, Glavkosmos and Human Space Flight Centre of Indian Space Research Organization signed a contract on consulting support for the selection of candidates for Indian astronauts, their medical examination for admission to special training on the program of preparation for space flight, as well as the preparation of Indian astronauts selected by the results of medical examination for space flight (read more).
***
Human Space Flight Centre is part of Indian Space Research Organization. HSFC is responsible for implementation of Gaganyaan Project, which involves end-to-end mission planning, development of engineering systems for crew survival in space, crew selection and training. HSFC is also pursuing activities for sustained human space flight missions.
Glavkosmos is a subsidiary of Roscosmos State Space Corporation. The main task of the company is to promote the achievements of the Russian rocket and space industry to world markets and manage complex international projects. For more than thirty years, the company has successfully implemented more than 120 international contracts, including the launch of more than 140 spacecraft as a secondary payload.
2023
2022
2021
2020
2019
2018
2017