The Soyuz-2.1 b launch vehicle with a Fregat upper stage and 36 OneWeb satellites is installed on the launch pad of Vostochny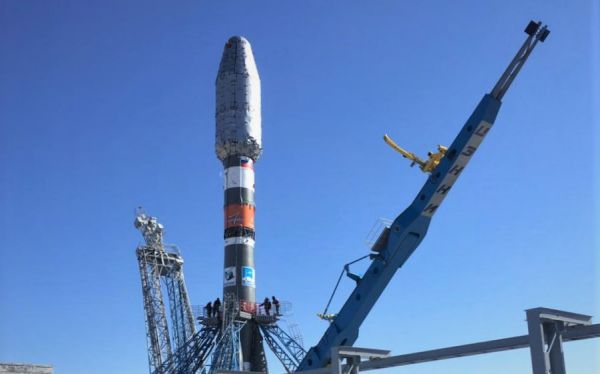 VOSTOCHNY, March 22. – On Monday, the Soyuz-2.1b launch vehicle with the Fregat upper stage and 36 OneWeb communications satellites aboard was rolled out from the Assembly and Test Facility and installed on the launch pad of the Vostochny Cosmodrome.
The pre-launch activities are carried out under the contract between Glavkosmos (a subsidiary of Roscosmos State Space Corporation) and the European launch service provider Arianespace and the Russian-French company Starsem for the of the innovative satellite constellation operator OneWeb. Specialists of the Russian rocket and space enterprises perform final operations. The pre-launch tests of Soyuz-2.1b systems are being conducted, and the interfaces between the on-board instruments and ground equipment are being checked.
It will become the second fully commercial launch from Vostochny. The launch is scheduled for Thursday, March 25, 2021, at 02:47 UTC.
Currently, the OneWeb low Earth orbit fleet of satellites has 110 spacecraft, and hundreds of others are to be launched. OneWeb low Earth orbit satellites are designed to provide consumers on the ground with high-speed Internet directly through satellite communications.
***
Glavkosmos, JSC is a subsidiary of the State Space Corporation Roscosmos. The main task of the company is to promote the achievements of the Russian rocket and space industry to world markets and manage complex international projects. During its thirty-five year history, the company has successfully fulfilled over 140 international contracts, including the launch of more than 150 spacecraft as a secondary payload.
ROSCOSMOS is a State Corporation established in August 2015 to carry out a comprehensive reform of the Russian rocket and space industry. ROSCOSMOS ensures the implementation of the state policy in space activities and its normative and legal regulations, as well as places orders for the design, production and supply of space equipment and space infrastructure. Its functions also include the development of international space cooperation, as well as the establishing of environment for application of space domain achievements for the social and economic development in Russia.
2022
2021
2020
2019
2018
2017