The Times of India: Russian agency that trained Gaganyaan astronauts to take tourists to International Space Station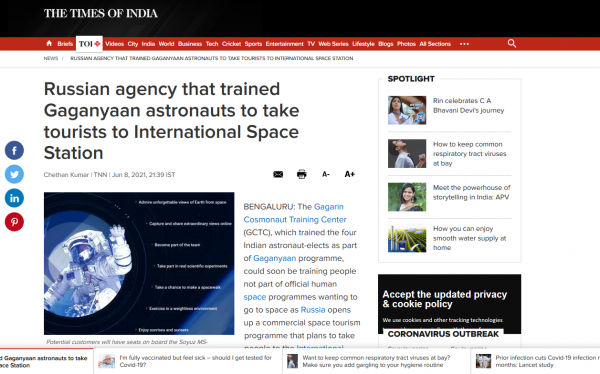 BENGALURU: The Gagarin Cosmonaut Training Center (GCTC), which trained the four Indian astronaut-elects as part of Gaganyaan programme, could soon be training people not part of official human space programmes wanting to go to space as Russia opens up a commercial space tourism programme that plans to take people to the International Space Station (ISS).
These potential customers will have seats on board the Soyuz MS crewed spacecraft, Glavkosmos, a subsidiary of Russian space agency Roscosmos that trained the Gaganyaan astronaut-elects said on Tuesday.
Glavkosmos, which has been working on space tourism since 2020, on Tuesday officially unveiled some of the details of the programme and said customers can start making inquiries.
"Prospective commercial participants of space flights start finding out which spacecraft and rocket they will go on a space trip on, what tasks will be solved during their pre-flight training, and what they will be able to do during their stay in space," Glavkosmos said.
On a specific question from TOI, Dmitry Loskutov, Director General of Glavkosmos, said the first flight is expected as early as 2023.
And, as reported by TOI earlier, an Indian firm, Valles Marineris International, which has offices in Bengaluru and Chennai, had in February finalised an agreement of cooperation with Glavkosmos for partnering in the promotion of space tourism.
The company, its CEO Jayakumar Venkatesan had said, has been working with Russia through its partner Aviakom to supply simulators used for cosmonaut training at the GCTC in Moscow too.
"We've been working since 2016. Astronaut training involves many simulators and the Aviakom simulator, whose design and development we supported, is also used to train astronauts from different countries in Russia. We are now in the process of readying another simulator for the upgraded version of the Soyuz Spacecraft," Venkatesan had said.
The existing simulator has already been used to train astronauts from the US, Japan, UAE among others.